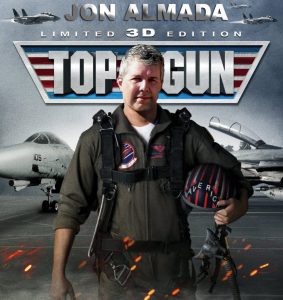 My name is Jon Almada. I am the host and force behind SoulStreamRadio. I have created this guest post for myself since I am the most frequent guest on the show and often interview myself at times!
Biography
I worked for over three decades in the spacecraft and propulsion industry on a wide range of high technology programs. I grew up with propulsion scientists coming to the house and was immersed in high-technology from the very beginning.
I worked in scientific and engineering computer systems support and ended up getting my degree in information technology while working full time and moved into applications design, programming, authored secure communications system applications and specialized in document management systems, streaming broadcast servers, technology evaluation and recommendations and much more. Parts of my job saw me sitting close to rocket engine tests doing broadcasts of rocket tests for my company and our commercial and military partners. I witnessed many amazing technology developments during my three decades in the business.
One of my favorite songs
While that was a great job, I also explored the world of the paranormal, the strange and unusual and the spiritual world. I am a psychic medium and retired scientist who lives smack in the middle of two very unusual and beautiful worlds.
While Science explains much of the world to us, there is an infinite amount of hidden history, unknown and secret knowledge and mysterious happenings occurring on our planet that needs to be looked at.
Now that I am retired from aerospace work, my full time job is that of a radio host.
I am presently the host of SoulStream and love my life in Northern California in the Sierra Foothills. I am also a ham radio operator and can usually be found on 20 and 40 meters broadcasting using the PSK31 digital protocol.
One of my many EVP recordings from my paranormal work made it such that I was on the SyFy show "Haunted Highway" to debut my EVP recording of a little boy whose voice called out as to where his grave stone stood at the "Pioneer Cemetery" in the gold rush city of Coloma, California.
EVP recording that gave my my 15 minutes of fame. A little boy is heard calling out to us as we investigated the graveyard in Coloma. "Mama gave me a little one" is how he starts off his interaction with us. None of us heard the voice as we were recording our walk through the cemetery in late December of 2008.
I am also open to appearing as a guest on other shows and would be more than glad to appear on your show. Just hit the Contact link or visit my guest contact profile HERE and get in touch today!