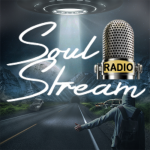 SoulStream Radio is a weekly paranormal-themed broadcast that provides a platform for sharing UFO, Paranormal, Cryptid  and the Strange and Unusual with our audience as well as on-air demonstrations of mediumship and electronic voice phenomena.
SoulStream began it's life in 2008 as a podcast called "Ghost Rider Paranormal Radio" on the Blogtalkradio broadcast platform.  We started with an idea that we could share our exploits in hunting ghosts and sharing EVPs we recorded in the field in our trips through the Gold Country of Northern California via our group "Ghost Rider Investigations".
In the beginning, we didn't really know what we were doing and had to learn the business of podcast radio the hard way. And we've come a long way since those early days of a $10 used cardioid microphone from a Craigslist ad and a single mic mixer that we still have in use on our backup studio.
In 2010, after much pressure and insistence from my dear friend, Cathy Bradshaw, we somewhat tentatively stepped into the world of On-Air mediumship and live demonstrations of EVP and had quite a run with the show which by then had been named SoulStream.
Cathy was something of a force of Nature. I have never met a kinder and more experienced radio personality and she would simply not take no for an answer when she pushed me to do readings live on the air. Her show, "Cathie's Distant Echos" was a immensely popular  show on BlogTalkRadio and she remained active in helping new mediums and psychics find their voices, using her show as a conduit to bring the Other Side to the world with messages of love and life-changing affirmations.
Her death was a shock to many and I am glad many of her radio talent found new homes to continue the work she started. Cathie went home to be with her husband who came through repeatedly in many EVPs with friends at the now retired CJ-EVP site as well as on 1800Heaven.Org site. You can listen to Christine Lyon's shows for CJ-EVP on BlogTalkRadio to learn more.
After the death of my father, Al Almada, in 2012, we slowly phased out of doing the show for a variety of reasons but chief among these was the grief of losing a close family member and I must say that while I had read many spirits for people in my time, I had no idea what kind of emotion grief was until I experienced it first hand. Life got in the way as well until my retirement from Aerojet in mid-2017 and I really didn't know what to do with myself, but it seems that the Other Side had other plans in mind and made no bones about pushing on my getting back in the broadcast chair whether I wanted to or not!
Our old shows on Blogtalkradio continue to be accessible and we are in the process of making the entire lot of them available to listen to here on this website.
We're glad to be back and I can't wait to deliver great content and shows to all of you!