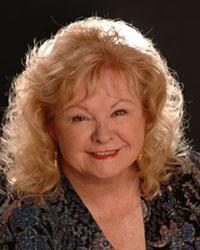 Annette Martin was a medium who Jon met in 2010. She was an extraordinarily gentle lady with an extraordinary gift. She has not been forgotten and her life is memorialized here at this page.
Annette's Biography:
Annette Martin the Psychic Detective Who Solves Homicides, Missing Persons and Cold Cases

As Seen On Good Morning America, Court TV, Biography, CBS, Fox News, ABC, 48 Hours, BBC, History and Travel Channel, Nancy Grace Show, Discovery Chanel, A&E, Catherine Crier, Montel Williams and More.

Whats it like to get inside the mind of a killer, or to experience the terror and pain of a murder victim? Annette Martin knows. Annette works as a psychic detective/medical intuitive and ghost detective work and has helped more than 60 law enforcement agencies, including the FBI, for over 40 years solve heinous crimes. She even became the first psychic sworn in as an expert witness in a court of law for a murder case.

Annette has been termed by the media as the "Radio Psychic" due to being the hostess of the 1st psychic radio talk show, in 1976, on the airwaves across the US. She has been a featured guest on hundreds of radio programs in the US and abroad. Her new radio show Annette Martins Psychic World, airs on http://www.HereWomenTalk.com every Wednesday at 11am Pacific, 2pm Eastern.

John Holland, well-known medium, refers to Annette Martin as, "The Mother of all Psychics."

Her predictions are uncannily accurate. In a reading requested by John Denver, she said she saw him flying a small craft that would tumble into the ocean. Fifteen years later he would die exactly that way.

Annette, has authored several books, Discovering Your Psychic World, a children's book, Annie Sunshine and the White Owl of the Cedars, and 2 meditation CDs, Peaceful White Light, and Guided Meditation for Self-Healing.
Websites
Radio Interviews
Mari Frank Interviews Annette Martin, Psychic Detective, Medical Intuitive, Medium, Ghost Buster, Opera Singer – Interview from November 19, 2008.

Note: Annette had a podcast show and all of the shows are unavailable. If anyone can provide a copy of one of these or point to a resource where we can link to these, it would be very appreciated.
Television
Psychic Investigators – Breaking up is hard to do
Psychic Detectives Part 1
Psychic Detectives Part 2
Psychic Detectives Part 2
Local appearance on San Francisco program "View from theBay"
Annette on the Montel Williams Show
Annette at Alcatraz Island in San Francisco
Annette on A&E Mediums – We See Dead People
---
Home Investigations in the field
Investigation in Lincoln California on August 15, 2010