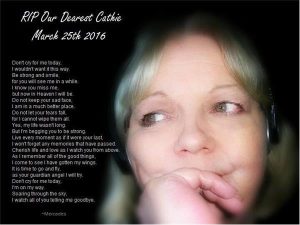 Note from Jon Almada: I was never able to find a biography for Cathie Bradshaw. She is the reason so many people got into contact with the Other Side and why so many people's lives changed for the better. She urged me at great length to take the risk of doing mediumship work and was patient to no-end in convincing me to do this work. This site and radio show you are now looking at and listening to is a testament to her.
I always got the feeling she liked to be in the background, pushing others forward and knowing SHE was the reason these people found their voices. I can certainly say with the ultimate level of respect that she helped me find MY voice when I was unsure of myself.
Cathie started a radio show on BlogTalkRadio called "Cathie's Distant Echo's" and hosted it herself for many years. She eventually transformed it into a place where a wide range of amazing people and hosts visited and exchanged their views, readings and thoughts about the Afterlife and Spirit. Her generosity and love of people were her trademark and unique signature. Many of her shows are now lost to posterity with her all-too-soon passing. I am including links to the work that remains here and will add more links or content as it can be recovered.
One of Cathie's favorite songs
Without knowing HOW she got into the work she did, it is almost a certainty that, because of the death of her husband Tony, she began looking into the Afterlife in a serious manner. She worked with a number of people well-known in the EVP world whose sites held recordings of her interactions with Tony on the Other Side.
I remember when I had emergency gall bladder and a rather serious hernia surgery in December of 2010 that the first person I called when out of surgery was Cathie. As I was off-the-air for some weeks recovering due to it being a "2-in-one" surgery, she kept my friends updated and I was the recipient of some serious prayers from her and her friends on the show. It was very much appreciated to have that kind of support.
I recall being "Santa Claus" on the air for a number of Christmas shows on her program and it was always fun. She loved me doing my various voices and characters and I recall those shows with a lot of smiles when I think of them.
She passed away much too soon at the young age of 60 years old in Boykins, Virginia. Her son, Rusty, called me to let me know about her passing and I was in shock when I heard the news. She was and remains to this day my friend in Spirit.  I do not have contact information for Rusty but would love to get into contact with him if possible.
I am working to recover as many of the original shows as possible. I am looking in my archives for shows I had downloaded and if ANYONE has any of these as well, I'd appreciate this because the vast bulk of her 1500 shows were deleted by BlogTalkRadio. I had tried to get them to recover the shows but it was an effort that proved more frustrating than anything else. For now, we'll try to pick up the pieces and recover what we can. Anything that can be saved would be deeply appreciated. This is a long-term project to be certain. Some of the shows do remain accessible on Blogtalkradio and we will do what we can in preserving these few remaining bits.
I have two interviews with Cathie on my show. Both interviews are from early on in with my show on BlogTalkRadio and are linked below. If any others come to light, I will link them here.
She needs to be remembered and her work preserved… She helped a LOT of people. God Bless…
Jon
Past Appearances on SoulStream
Other shows featuring Cathie in interviews
Cathie's Works and news items pertaining to her
Cathie's EVP work
Obituary